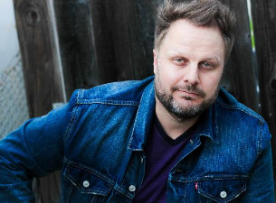 Click Bait with Byron Bowers, Ramon Rivas II, Emily Maya Mills, Forrest Shaw & more!
You missed it! This show has passed.
Forrest Shaw's Bio
Forrest Shaw made his television debut on Conan in 2014 and appeared on Gotham Comedy LIVE on AXS TV in early 2015. He has performed in numerous festivals such as, Comedy Central's South Beach Comedy Festival, Bridgetown Comedy Festival, Boston Comedy Festival, Big Sky Comedy Festival, and the New York Underground Comedy Festival, and was awarded 2013's Ultimate Miami Comedian. Forrest is and Associate Producer on The Jim Jefferies Show on Comedy Central, and was featured in season 2 of the FX show Legit and has also appeared on Animal Planet. Forrest is a co-writer (and lead actor) of the award winning web series Labor Days (labordays.tv). He is co-creator of the weekly What's What Podcast (whatswhatpod.com). He can also be heard on Sirius/XM Satellite radio, Pandora, and Spotify. His debut album 'Mister Grizzly' was released on November 18, 2014 on Comedy Records.
Learn More