History of the Improv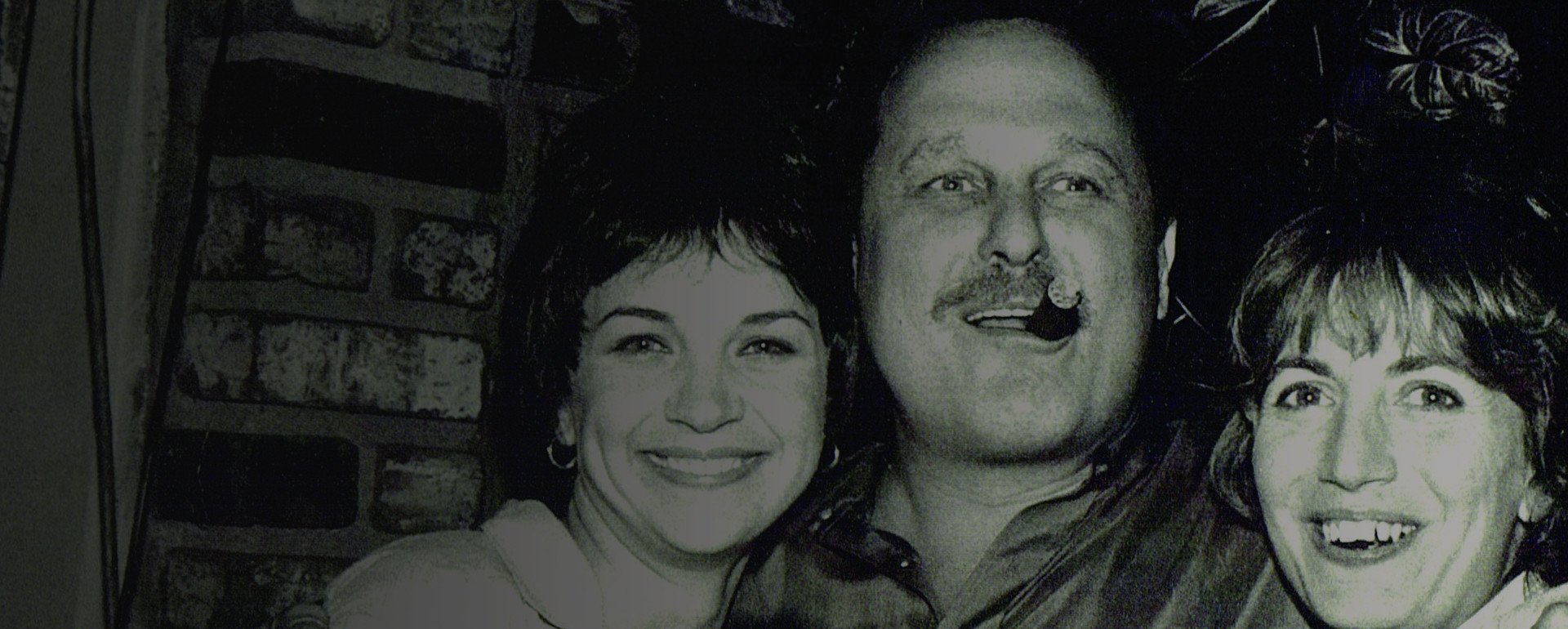 In the beginning….there was Budd
For over half a century, the Improvisation Comedy Clubs have remained the premier stages for live comedy in the United States. Over the decades, the talent who have graced our stages represent the Who's Who in American comedy, including Richard Pryor, Billy Crystal, Lily Tomlin, Freddie Prinze, Andy Kaufman, Eddie Murphy, Jerry Seinfeld, Tim Allen, Jay Leno, Chris Rock, Dane Cook, Ellen DeGeneres, Jamie Foxx, Adam Sandler, Jeff Dunham, and Dave Chappelle.
Today, the Improv stage continues to be the most important live venue for new comedians. Its start in 1963, though, was anything but legendary.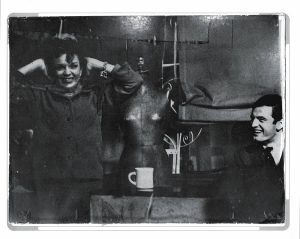 The Improvisation was founded in New York City by Broadway producer Budd Friedman. Budd hoped for a place where Broadway performers could meet after their shows in an intimate setting where performers could simply eat, drink coffee (the Improvisation did not yet have a liquor license) and, most importantly, sing. The Improvisation quickly gained attention as the gathering spot where young Broadway artists would hold sing-alongs into the wee hours. Budd has a very vivid memory of Judy Garland and Liza Minnelli singing, accompanied at the piano by Peter Allen.
Our iconic brick wall started in the New York club as well, almost by accident. Budd ripped down the red wall panels and mirrorsleft by the previous tenant,a Vietnamese restaurant, and discovered a fantastic red brick wall. Since he knew nothing about dry walling (and couldn't have afforded it anyway), he simply left the brick in place, which soon grew to be its signature.
One year later, the Improvisation's first comedian, Dave Astor, appeared on stage to try out new material. The set went well and others quickly followed. Soon, comedians began to dominate the rotation, as singers were phased out of the nightly lineup. The Improvisation became the place for live comedy. In fact, it was the only nightly stage for live comedy. The previously unknown Dave Astor made Budd the impresario of comedy virtually overnight. But the legendary club was just beginning.
Future giants of American comedy all vied for stage time at the New York club. In an effort to be noticed by Budd, nothing was off limits to young comedians desperately hoping to be selected.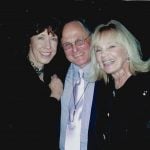 Lily Tomlin hijacked a parked limousine and had the stunned driver circle the block so she could be seen making a proper entrance for her meeting with Budd.
Jay Leno drove weekly between Boston and New York, hoping that someone would notice him hanging around the Improv, or sleeping in their parking lot. Eventually Budd did—impressed that Leno would log so many miles and countless hours in the hope of getting his first minutes on stage.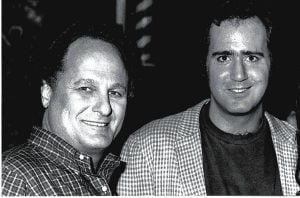 Andy Kaufman interviewed with Budd and never broke out of his "Latka" accent. It wasn't until Kaufman performed on stage that Budd realized he had been duped!
A remarkable list of talent was building; the debut of 16 year-old Freddie Prinze one night, legendary Milton Berle the next. In one month, audiences could catch the greats and soon-to-be-greats: George Burns, Robert Klein, George Carlin, Jerry Seinfeld, Larry David, Richard Lewis, and Rodney Dangerfield, who was the Improv's part-time emcee for four years.
Many future stars worked at the Improv— and not all onstage. Among the door hosts were Danny Aiello ("Godfather II", "Moonstruck"), Keenan Ivory Wayans ("In Living Color", "Scary Movie"), and Joe Piscopo ("Saturday Night Live"). Waitresses included Karen Black ("Easy Rider", "Five Easy Pieces") and Elayne Boosler. A guy named Barry Manilow would play piano. And, it was not unusual to find Dustin Hoffman taking his place when the regular Improv pianists were on break!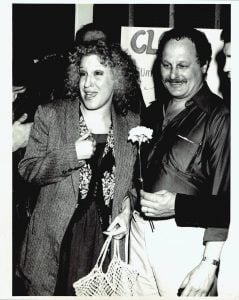 Contrary to popular belief, Bette Midler was never a waitress at The Improv,but she regularly performed onstage, and Budd became her manager, helping to book her first appearance on "The Tonight Show." Next to Johnny Carson, the Improv stage was arguably the most important in all of show business. For a young comedian, success at the Improv meant everything.
Go West, Young(ish) Man
Budd had a vision to expand the Improv and, in 1975, he headed West and left Chris Albrecht as the manager in charge. Albrecht had reached a career zenith, unless you consider eventually becoming the Chairman and CEO of HBO somewhat noteworthy.
Budd opened his second Improv on Melrose Avenue in Hollywood, California, where it still stands today. The club included the trademark piano and the iconic brick wall. Jay Leno, no longer sleeping in cars, helped to paint the ceiling.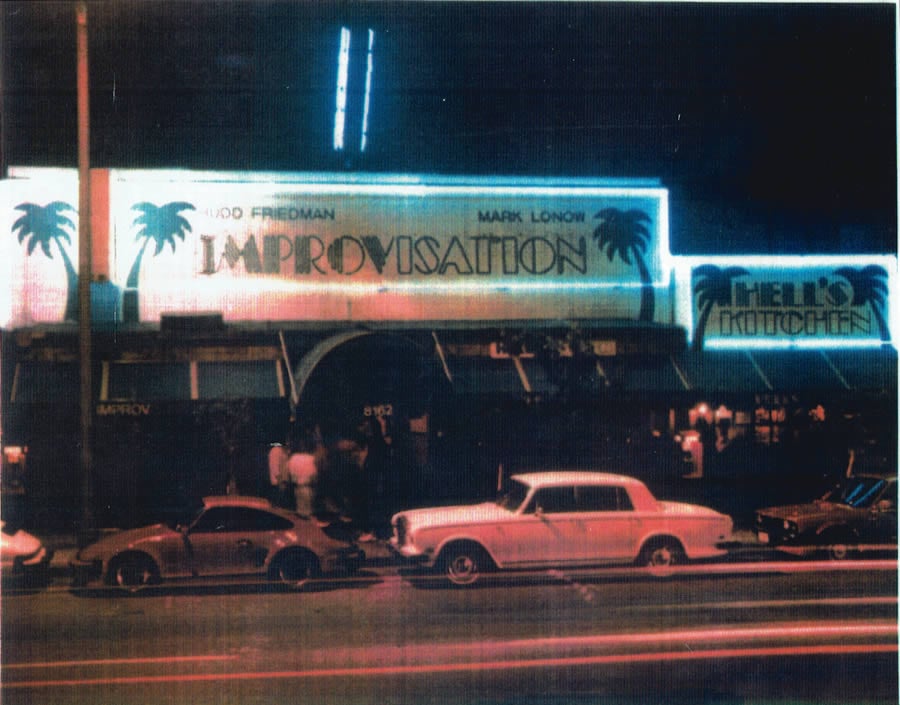 As in New York, the next generation of artists and entertainment executives worked the Improv—on stage, in house, or at the bar. Actor Daniel Baldwin, comedy manager Jimmy Miller (Jim Carrey), and writer/producer/director Judd Apatow ("The 40 Year-Old Virgin" "Knocked Up") were part of the fraternity of door managers. Debra Winger ("Urban Cowboy," "Terms of Endearment") and writer Callie Khouri ("Thelma & Louise") were waitresses. And, mixing drinks at the bar, was Leslie Moonves, the former Chairman and CEO of CBS.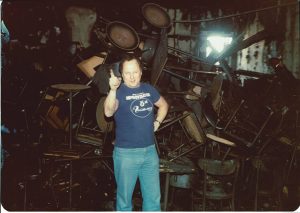 But comedy at the new Hollywood Improv was not without drama. In 1979, a talent strike was organized against Mitzi Shore and her Comedy Store for failing to pay non-headlining comedians. The Improv was set to reap the benefits of the influx of comedians working only our stage until a massive fire nearly burned the entire building down. Arson was the cause and rumors ran rampant, from a competitor of Budd's (there was only one) to a disgruntled comedian who bombed on stage. The mystery was never solved, but the fire did close the showroom. To help Budd quickly rebuild, Improv favorites Robin Williams and Andy Kaufman organized fundraising shows, just one of many examples of legendary comedians showing their support throughout the years to the place that started their careers.
An Evening at the Improv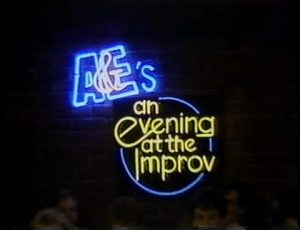 In the 1980's, a new cable network, the Arts & Entertainment Network (now known as "A&E")began airing "An Evening at the Improv", a weekly comedy series taped at the Hollywood Improv and hosted by Budd Friedman. Cable television was exploding across America, and Budd, with his signature monocle, became as well known to viewers as Johnny Carson and Ed Sullivan. "An Evening at the Improv" offered television exposure to new comedians and brought stand-up comedy into homes across the country like never before.
Comedy Boom of the 80's
In the 1980's, spurred by the growth of cable television and movies, comedy dominated pop culture. Robin Williams was on the cover of virtually every magazine for his movie roles. Along with "An Evening at the Improv," there were widely popular HBO comedy specials and the comedy juggernaut, "Saturday Night Live."
The Improv began expanding its comedy empire. After seventeen years of going solo and running the club on a modest budget, Budd realized that he needed some support.
His new partner was Mark Lonow, himself once part of a New York comedy trio with his wife, JoAnne Astrow and Henry Winkler, 'the Fonz' from "Happy Days." Mark had moved to Los Angeles, became a successful producer/director, and would soon be credited with helping to make the Improv a more profitable business.
Together, Budd and Mark began a national expansion of the Improv, opening locations in San Diego, San Francisco, Brea, Irvine, Tempe, Washington D.C., Dallas, Addison, Cleveland, Miami, Las Vegas, Reno and London, England.
Suddenly, comedy fans across the country were able to see their favorite comedians in an intimate club setting. For the grand opening of the Improv in San Diego, Robin Williams performed and was surprised onstage by his idol, Jonathon Winters. They performed together for the very first time.
Comedy Slowdown in the 90's?
Comedy was king in the 1980's, leading to an inevitable slowdown in the 1990's.
Many new clubs attempted to duplicate what the Improv had so successfully accomplished, often with poor results. Worse, those new clubs, needing to book comedians, increased the need for comedians to perform across the country, and the result was a dilution of talent. While the Improv still delivered the best talent available, some nights were largely forgettable.
While nothing can capture the live experience of comedy, many were content to stay home and watch Comedy Central, a new cable network also luring away top talent.
The 90's did give rise to the stand-up comedian-as-actor, thanks to such huge prime-time successes as Jerry Seinfeld, Drew Carey, Tim Allen, and Ellen DeGeneres. In fact, many of the concepts for those hit series were developed on our stages, and the deals negotiated at our tables.
A New Era of Expansion
A new century began with a new generation of explosive comedy talent. Jamie Foxx, Dave Chappelle, Jeff Dunham, Dane Cook, David Spade, Pablo Francisco, Brian Regan, Sarah Silverman, Daniel Tosh, Gabriel Iglesias, Jo Koy, Sebastian Maniscalco, Todd Glass, Aisha Tyler, Bobby Lee, Anjelah Johnson, and Jamie Kennedy, to name a few, and once again helped make the Improv the best place for top comedy.
The Improv was expanding once again. In 2002, Budd partnered with Al Copeland to create six new clubs: in Irvine, San Jose, Brea, Ontario, Pittsburgh, and the re-launch of the historic Improv on Melrose Avenue.
In recent years, the Improv opened in Chicago, Denver, Tampa, West Palm Beach, Arlington, Louisville, Baltimore and Orlando.
New clubs are now being planned, both domestically and internationally, ensuring that the Improv's promise remains true: to deliver the best comedy talent, quality food and service in the most celebrated—and largest—comedy club chain in the world!
Improv on the Big and Little Screens
The Improv has long been as much a part of Hollywood as any other establishment. We've been the site of hundreds of tapings for both film and television, not to mention countless comedy recordings. The critically acclaimed "Funny People" was the latest movie to be filmed at the Hollywood Improv, but other movies such as "Man on the Moon," "The Aristocrats", Robert Townsend's "Hollywood Shuffle," and "The Goodbye Girl" also had major scenes shot at the Improv.
For television – other than the 400+ hours of 'An Evening at the Improv'– we've been featured on Last Comic Standing (which has taped in multiple Improv locations) and dozens of comedy specials on HBO, Showtime, and Comedy Central. Other shows include A&E's "Gene Simmons' Family Jewels," E!'s "Denise Richards: It's Complicated", the NBC series "Studio 60 on the Sunset Strip," as well as our own HBO's "An All-star Toast to the Improv" and "The Improv 40th Anniversary Special" on NBC.