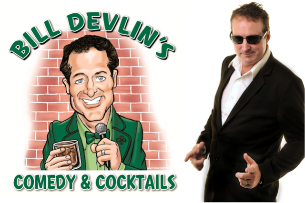 Bill Devlin's Comedy & Cocktails: Jamie Kennedy, Danny Villalpando, Kira SoltanovichJohnny Mitchell, Chris Fairbanks and more!
You missed it! This show has passed.
Kira Soltanovich's Bio
Kira Soltanovich grew up in San Francisco during a time when there were bad neighborhoods, cheap coffee and it wasn't ironic to ride the cable cars. She began her comedy career back in 1998 after asking her Russian immigrant parents if they would support her dream to become a stand up. After her mother and father confessed, "It's not like you're smart enough to be a doctor…" Kira took that as their blessing to pursue her dreams and she's never looked back. She was a series regular on How To Be A Grownup for TruTV, the hidden camera show Girls Behaving Badly and was a correspondent on The Tonight Show with Jay Leno for over 8 years. Recently, Kira co-hosted the game show Winsanity with Donald Faison for the Game Show Network. One of Kira's greatest achievements is shooting her latest 1 Hour Stand Up Special,You Did This To Me, which was completely self-produced and she shot it while over 7 months pregnant. The first stand-up comedian to shoot a special pregnant! Kira has appeared on The Jay Leno Show, Hello Ross! with Ross Mathews, Jimmy Kimmel Live, Last Call with Carson Daly, Hell's Kitchen, Last Comic Standing, Set List TV, and The World Stands Up on Comedy Central. She has written for Joan Rivers, Scott Baio, Selena Gomez and Justin Bieber. And here's an interesting fact, three of those people have dated each other. Her half-hour Showtime special, Here Comes Trouble, won Best Stand Up Special by a Soviet.* On Kira's podacst, The Kira Soltanovich Show, she interviews fellow comedians who have kids and they discuss all things comedy- and colic-related. *No such award exists.
Learn More