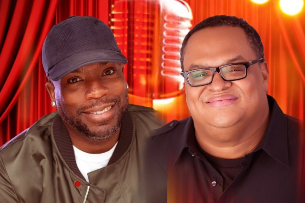 Huggy Lowdown & Chris Paul
You missed it! This show has passed.
Show Info
Huggy Lowdown
Huggy is the number one segment on the Tom Joyner morning show heard in over 115 markets across the country. Every morning Huggy can be heard dishing out entertainment news and gossip to more 8 million Tom Joyner listeners. Lowdown is known for his hilarious appearances on the HBO Def Comedy Jam, The Jamie Foxx Special, P. Diddy's Bad Boys of Comedy, The Bernie Mac Special, The Whoopi Goldberg Special and for his rounds with the Kings of Comedy Tour. You can see him on Shaq Comedy all-stars, currently running on showtime and on two seasons of "Love That Girl" on TV One.


Chris Paul
Chris Paul has emerged as one of the most respected writers and comedians in the country. Chris has performed his stand up on Comedy Central and BET, and he has shared the stage with comedy giants such as Martin Lawrence, Chris Rock, Drew Carey, and Steve Harvey. Currently you can hear Chris on the syndicated Tom Joyner Morning Show where he is the head writer for Huggy Lowdown along with writing and performing popular parody songs for the show like the weekly "NFL Pop-Up's" during football season. Chris Paul is known throughout the Washington D.C market for his weekly football parodies for Washington Redskins. Paul's "Redskin Remixes" have close to one million views on You Tube. Chris's comedic talents and his love of football are why the Washington Redskins sought him out to create a weekly NFL sketch comedy show for their Redskins Broadcast Network. Redskins Late Night is in its 6th season and Chris Paul is the host and writer of this top rated show. On June 5, 2010 the National Academy of Television Arts and Sciences presented Chris Paul with an Emmy Award for his work on Redskin Late Night.