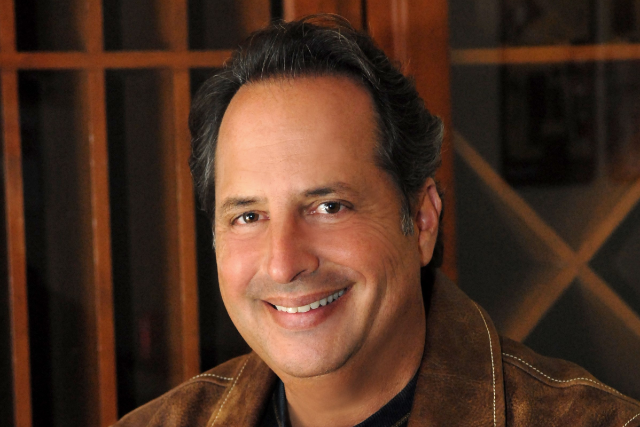 Jon Lovitz's Bio
Jon Lovitz has been one of the best known comedians for the last thirty five years. He got his start acting in High School plays and developing his skills at the University of California, Irvine where he earned a B.A. in Drama. He also studied acting with Tony Barr at the Film Actors Workshop. At the advice of Tony Barr, Jon decided to concentrate solely on comedy.

He began taking classes with the famous improv comedy group, "The Groundlings" in 1982. One year later, after being accepted into "The Sunday Company", Jon got his first acting job on the television show "The Paper Chase: the Second Year". Thinking he was on his way, he promptly quit his job at a clothing store…and became a messenger. The next three years – nothing!!! Then, in September of 1984, he was accepted into the main company at "The Groundlings".

On March 28, 1985, "The Groundlings" appeared on "The Tonight Show with Johnny Carson" where Jon premiered his character "Tommy Flanagan of Pathological Liars Anonymous". Following the introduction of this persona, Jon got an agent, and booked a movie, a series, a voice over for a cartoon, and "Saturday Night Live".

Jon has been working non-stop since. He was nominated for an Emmy his first two years on "Saturday Night Live". While on SNL, he became known for his characters "Tommy Flanagan of the Pathological Liars Anonymous" ("Year, that's the ticket"), "Master Thespian", "Hanukkah Harry", and "the Devil". He has appeared in numerous films, including "Big", "A League of Their Own", "The Wedding Singer", "High School High", "Small Time Crooks", "Rat Race", "The Producers", "Eight Crazy Nights", "The Benchwarmers", and "Grown Ups 2", among many others. He has also worked with acclaimed directors such as Penny Marshall, Rob Reiner, Jerry Zucker, and Woody Allen.

Along with his comedy, Jon is well known for his distinctive voice. He was the lead voice for the character "Jay Sherman" in the acclaimed cult cartoon series, "The Critic". He has also appeared in twelve episodes of "The Simpsons", even creating the character of Marge Simpson's boyfriend, "Artie Ziff" (who sounds suspiciously like Jay Sherman).

Jon has also appeared on Broadway at the Music Box Theatre in Neil Simon's play "The Dinner Party", taking over the lead role from Henry Winkler. He has sung (yes, he can sing!) at Carnegie Hall three times (including "Great Performances: Ira Gershwin at 100: A Celebration at Carnegie Hall) and sung the National Anthem at Dodger Stadium and the U.S. Open. He also sang with English rock star, Robbie Williams at the Royal Alpert Hall and appears on his album, "Swing While You're Winning!"

Jon has also had an illustrious television career. He was the first famous guest star on the hit show "Friends". In the same week, he appeared on an episode of Seinfeld. Jon also had a recurring roles on "Hot in Cleveland", "Las Vegas", "Two and a Half Men", "Hawaii Five-O", and "New Girl".

For the last ten years Jon has pursued a career as a stand-up comedian. He is one of the few performers to start as an actor and then become a stand-up comedian who successfully headlines nightclubs, theatres, and casinos across the country.

In 2015, Jon is set to appear in "Killing Hasselhoff", "The Ridiculous 6", and "Bark Ranger", as well as headline numerous comedy shows across the country.