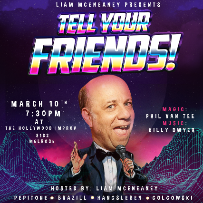 Tell Your Friends w/ Liam McEneaney ft. Laurie Kilmartin, Mark Brazil, Magician Phil Van Tee, Elise Golgowski, Connor Hangsleben, Killy Dwyer, and more!
You missed it! This show has passed.
Liam McEneaney's Bio
Liam McEneaney is a critically-acclaimed comic ("100 Best Comedians of All Time" - GQ Spain) who has toured Europe and has appeared on Showtime, Comedy Central, IFC, and much more. He's a fixture on Sirius/XM, and has been heard on NPR, The Howard Stern Wrap Up Show and WTF with Marc Maron. But his greatest achievement in comedy, and really the highest honor anyone can receive in show business, is being verified on Twitter.
Learn More