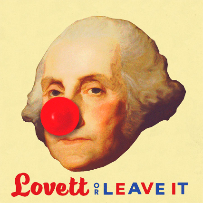 Lovett or Leave It ft. Emily Heller, D'Arcy Carden and Sean Rameswaram
You missed it! This show has passed.
Jon Lovett's Bio
Jon Lovett is a co-host of the political podcast Pod Save America and a former presidential speechwriter in the Obama White House. He had a show on NBC called 1600 Penn that was cancelled after one perfect season. He was a producer on the Newsroom. He was a speechwriter for Hillary Clinton. And he was once named "Washington's funniest celebrity" before he left the nation's capital forever.
Learn More