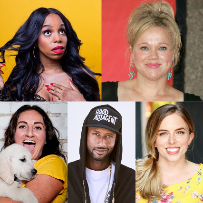 Long Time No See Comedy ft. London Hughes, James Davis, Caroline Rhea, Jessica Michelle Singleton, Steph Tolev, Charles Greaves and more TBA!
You missed it! This show has passed.
James Davis' Bio
James Davis is a American actor, writer, and stand-up comedian. He also has a recurring role on Real Husbands of Hollywood. He was a reccuring cast member from Season 5 to Season 7, and his return in Season 15 of the improv comedy show, Wild 'N Out on MTV2. He is also known for his video "Baraka Flaka Flame". James has appeared on shows such as Real Husbands of Hollywood, Hell Date, and Bill Bellamy's "Who Got Joke:s. He has also written for three BET Awards and two BET Hip Hop Awards. James has hosted rap/comedy concerts for Drake, Big Sean, J. Cole, and Ryan Leslie. James often performs for stand-up comedy troops, colleges and all major comedy clubs in southern California. Davis also releases numerous sketches and is a regular on the Funny or Die website. James was also a recurring member of Wild 'N Out on MTV2, E! Channel's Chelsea Lately, and was also working on his own television show for the E! Network. In 2017, he hosted his own television series Hood Adjacent with James Davis on Comedy Central. A year later, Davis is set to star in the NBC comedy pilot Friends-In-Law.
Learn More