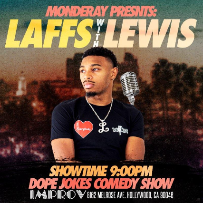 Improv Presents: MONDERAYS with Lewis Belt ft. Brandon Wiley, Rob Haze, Brett Riley, Lewis Dix, Donnivan Jordan
You missed it! This show has passed.
Lewis Belt's Bio
Stand up comedian and actor known for his online social media presence and alter-ego Sonniebo. He appeared on season 7 of the MTV series Are You the One? These days, Lewis can be found on Amazon Prime Video where you can stream or buy his debut comedy special. NBA All-Star and Executive Producer Demarcus followed up his Boogie's Comedy Slam release with the debut of his Rookie of the Year series showcasing new comedic talent. In this installment, Lewis put on a hilarious performance filmed at the historic Paramount Theatre in Oakland, CA.
Learn More