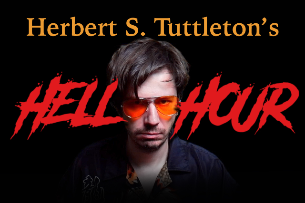 Herbert S. Tuttleton's HELL HOUR ft. Peter Kim, Simon Gibson, Jake Knoll, Luke Null, and Special Guest!
You missed it! This show has passed.
Herbert S. Tuttleton's Bio
Herbert S. Tuttleton is an esteemed playwright and film auteur whose works have been featured and rejected regularly on Adult Swim's livestreams "The Weather" and "Development Meeting". As his agent at Gersh once told him "I DON'T REPRESENT YOU, GET OUT OF HERE," Herbert S. Tuttleton heeded his advice and began doing stand up comedy because he loves live performance also every single TV writer is a stand up comic so this must be the ticket. Herbert S. Tuttleton has garnered much success in the stand up realm, performing regularly at The Hollywood Improv, semi-regularly at The Comedy Store, heavily at Flappers in beautiful Burbank, and isn't allowed in the Laugh Factory.
Learn More