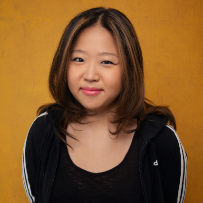 Grace Jung & Friends ft. Ai Yoshihara, Zach Stein, Bridget Sell, Suwon Weaver, Zack Chapaloni!
You missed it! This show has passed.
Grace Jung's Bio
Grace Jung is a stand-up comedian, writer and filmmaker based in Los Angeles. She is the author of Deli Ideology and hosts K-Drama School podcast. Grace was named Comic of the Week on the Jackie and Laurie Show, and performed at the Flyover Comedy Festival, DC Comedy Festival, and many more.
Learn More