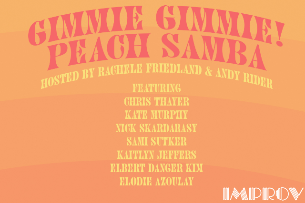 Gimmie Gimmie Peach Samba ft. Rachele Friedland, Andy Rider, Chris Thayer, Sami Sutker, Elodie Azoulay, Kaitlyn Jeffers, Elbert Kim, Kate Murphy, Nick Skardarasy, Ismael Loutfi!
You missed it! This show has passed.
Ismael Loutfi's Bio
Ismael Loutfi is a comedian, writer, and actor who developed his deeply acerbic sense of humor growing up a Muslim in rural North Florida. He's been called 'gifted', 'quick-witted', and a 'neurotic toe-rag' by many friends' parents. Ismael is currently writing on an Unt. Ramy Youssef Project. Before that, he wrote for the critically acclaimed Patriot Act with Hasan Minhaj on Netflix for the entirety of its run. Ismael's Comedy Central Half Hour special, Sound It Out, debuted in early March 2022. His stand up was previously featured on This Week at the Cellar, Jimmy Kimmel Live, and he was selected by Bill Burr for his personally curated stand up series Bill Burr Presents: The Ringers. He has performed on the FOX Night of Comedy showcase and has been named a NewFace of Comedy by the prestigious Just for Laughs comedy festival. Ismael can be seen in HBO's High Maintenance, the Sarah Silverman-produced Please Understand Me, and multiple episodes of Comedy Central's Ahamed's Ramadan Diary.
Learn More