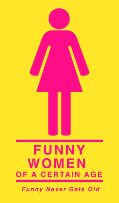 Funny Women Of A Certain Age: Carole Montgomery, Tracey Ashley, Mary Kennedy, Sue Kolinsky, Karen Rontkowski and more!
You missed it! This show has passed.
Carole Montgomery's Bio
CAROLE is a respected veteran of the standup comedy scene nationwide with over 2 dozen television credits to her name. In addition to her numerous television appearances, Carole has headlined clubs & colleges across the USA and starred in 2 different Las Vegas production shows. In her ten years as a LAS VEGAS STAR, it is estimated that she has been seen by over 5 million audience members. In 2018 Carole performed on the Melissa Etheridge & Friends cruise where she played to packed audiences. CAROLE is also an accomplished director & producer. She created and directed the sketch show FINE, FUNNY AND FEMALE which played in NYC for 3 years. Carole directed Jim Florentine's solo show I'M YOUR SAVIOR currently airing on Amazon Prime. She produced the television stand up specials SHANG IS SHANGRY and PAUL OGATA:ALL LIES with the production company KILLER BUNNY. They are developing numerous comedy projects together to bring to TV.
Learn More