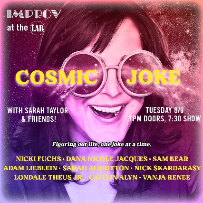 Cosmic Joke with Sarah Taylor ft. Michael Evans, Nicki Fuchs, Dana Nicole Jacques, Nick Skardarasy, Samantha Hale, Adam Lieblein, Sarah Albritton, Sam Bear, Londale Theus Jr, Caitlyn Alyn, Vanja Renee
You missed it! This show has passed.
Adam Lieblein's Bio
Adam is a middle-aged guy with multiple kids, multiple careers, and multiple ex-wives. He produced several films, co-hosted 'Fight for Fame' on E! Entertainment Television, and has been a talent agent for decades. His background as an agent for comedians and his love for comedy has informed his playfully sarcastic wit, and has driven him to the stand up comedy stage, where he has spent years performing in clubs like Flappers and The Ice House. He currently runs a commercial comedy division of a talent agency, and produces and hosts a monthly standup show with his many talented clients.
Learn More