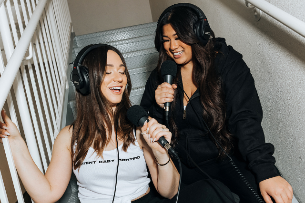 Pretty Basic Live in Irvine
You missed it! This show has passed.
Show Info
Pretty Basic is a lifestyle brand driven by twenty-something year old best friends and globally recognized digital creators, Alisha Marie & Remi Cruz. The Pretty Basic podcast debuted at #1 on iTunes in October 2018 and most recently took home a Webby Award for Lifestyle Podcast, the show has surpassed 50 million lifetime downloads. From fun lighthearted conversations about dating to sharing their tips on how to feel more confident - each week you'll be left wanting more. With guests and special interviews, new episodes are released every Wednesday across streaming platforms and on the Pretty Basic Podcast YouTube channel.
The powerful creators and hosts behind Pretty Basic have been featured in esteemed publications such as the Los Angeles Times, Variety and Business Insider, among others. The duo partnered with tarte Cosmetics to release the limited edition Pretty Basic x tarte Collection in February 2021, which was available nationwide in Ulta stores and at
tarte.com [tarte.com]
. Alisha & Remi have spoken on the business of podcasting and digital content at SXSW, VidCon and completed Pretty Basic Live during 2019, which consisted of four live podcast recordings.
Follow Pretty basic on Instagram (
@prettybasicofficial [instagram.com]
) and Twitter (
@prettybasic [twitter.com]
).