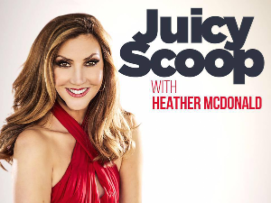 Heather McDonald's Juicy Scoop Podcast
You missed it! This show has passed.
Show Info
Heather McDonald's stand up special I DON'T MEAN TO BRAG debuted on Showtime and was later purchased by Netflix. She consistently sells out shows across the country in theaters and comedy clubs.
Heather wrote, produced, and appeared on E!'s top rated show CHELSEA LATELY for
its entire 7 year run. She also starred in AFTER LATELY, a mockumentary series on E!
for its 3 successful seasons. Heather was also a contributing writer who had a featured role in major motion film "White Chicks" and "Dance Flicks" by The Wayans Brothers.
She is the host of the wildly successful podcast, JUICY SCOOP with Heather McDonald. Her show is available twice a week on iTunes and everywhere podcasts are available. In its fourth year, there are over 350 episodes and over 50 million downloads.The show has over 10,000 five star reviews on iTunes and is ranked in the top 10 comedypodcasts. Heather gets the juiciest stories from her guests, which include accomplished comedians, actors, writers and reality stars.
She was the host of TLC's All About Sex and Hollywood Today Live. She is regularly featured on Wendy Williams, HLN, Nightline, CNN, Punchline, RuPaul's Drag Race, The Tonight Show, Keeping Up With the Kardashians and too many more to list.
Her celebrity impressions and Barbie reenactments of TV shows on her multiple social media platforms have gone viral and continue to bring joy to the world.
Heather's two New York Times Bestselling memoirs are titled YOU'LL NEVER BLUE BALL IN THIS TOWN AGAIN and MY INAPPROPRIATE LIFE.