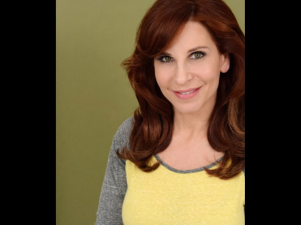 Shawn Pelofsky's Bio
This sassy female will blow you away with her physical comedy and high energy. If Joan Rivers and Bette Midler were to have a love child, then this would be your comic for hire. Shawn will take you on a wild ride with her outrageous impersonations and knowledge of pop culture. Her ability to nickname and work a crowd will have you in hysterics. Once you "Stretch it Out" with Shawn Pelofsky, you will never stop.

Shawn was born one out of only ten Jews in Oklahoma. Performing since the age of eight, it's only natural that Shawn decided to pursue a career in comedy. She attended the University of Southern California and received a B.A. from The School of Theater. During her time at USC, she joined an improvisational group "Comedius Interruptus" which became her motivating force to train at The Groundlings.

By the age of 20, Shawn Pelofsky was performing sketches and improv with comedic giant (SNL's) Will Ferrell'. With a couple years of improv under her belt, she became a member of The ACME Comedy Theater. During her time at ACME, Shawn flourished in the field of stand-up comedy culminating with her current status as a regular at The World Famous Comedy Store.When she's not touring or performing for our troops in places like Afghanistan, Bosnia, Bahrain and Guantanamo Bay, Shawn performs weekly on their infamous Main Room stage. Adding to her many comedic accolades, Shawn has been featured in The Montreal "Just for Laughs" Comedy Festival and in the all female hit comedy tours Pretty Funny Women, Nice Jewish Girls Gone Bad and The Hot Tamales produced by Eva Longoria. She has opened up for greats such as Richard Lewis, Robert Klein and Bill Maher and written for comedic legend, Joan Rivers on Fashion Police.

Shawn has given the comedy competition circuit a run for its money as a finalist for The Funniest Woman in Orange County and in Comedy Central's "Laugh Riots". Her television and film credits include Community (NBC), Lip Service (Showtime), Chelsea Lately (E!), The Gossip Queens (LOGO), Pretty Hurts (LOGO), Comics Unleashed (ABC), The Tonight Show (NBC), Pauly Shore's Minding the Store (TBS), Last Comic Standing (NBC), and Free Enterprise starring William Shatner. You can currently catch Shawn Pelofsky taking gay male audiences by storm performing with the Atlantis Cruises worldwide, Gay Prides around the USA, hosting HRC events and on YouTube with her hit web-series, STOP IT! Look for her first dramatic lead in the film, TRI and in the indie comedy, This Is Meg. She is also now a producer for the hilarious new TV Game show Funny You Should Ask. You can purchase her comedy album: Shawn Pelofsky Is Lady Haha on i-Tunes and get in line for the release of her 1 Hour Comedy Special: STRETCH IT OUT! (coming soon).