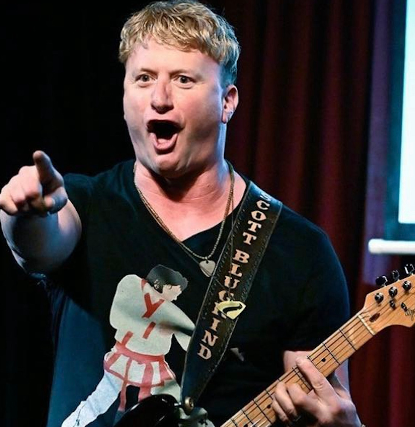 Scott Blugrind's Bio
Scott Blugrind is the Multimedia Electric Guitar Comic who makes every show "Party Time!!" His high energy and crowd engaging act combines Stand-Up, Parodies of Anthems, Original Songs, Hysterical Videos, and Guitar Wizardry!



Scott Blugrind is also a well-known audience warm-up comedian, who has worked on over 700 episodes of TV sitcoms, including 192 episodes of Friends! He also warmed-up Veronica's Closet, Joey, The Class, and The Weber Show, among others. As a Musician, Scott is a world class Guitarist, Bassist, Musical Director and Song Writer. He has performed at The Whiskey, The Cabana Club, and The Roxy, and had a multi-year residency at The Fox & Hounds.

On a side note, Scott has been one of the top substitute teachers for the LAUSD for over two decades. He is known as "Mr. B: The Guitar Playing Sub". He combines Music, Magic, and an enthusiastic energy to teaching the students in the East San Fernando Valley.