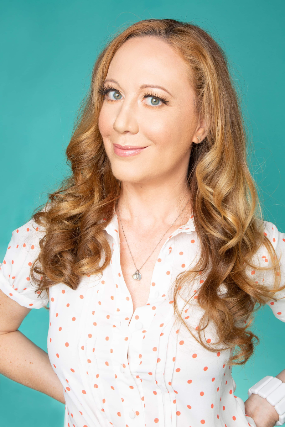 Renee Percy's Bio
Renée started her career as "Pipi" on the wildly popular television series Degrassi High. Since then, her career has included acting, writing, standup and sketch comedy, as well as touring Europe performing Shakespeare's Twelfth Night.

She has taped two live comedy specials, performed at numerous festivals, and has won both a Canadian Comedy Award and a Phil Hartman award. She has toured the country (that country being Canada) doing standup with the world's largest chain of comedy clubs, Yuk Yuk's, and was a writer and performer on, numerous Canadian television shows including being a series regular for four seasons on the hit sketch comedy show COMEDY INC. In the US, Renée has opened for the likes of Jeff Garlin, Preacher Lawson, Jamie Kennedy, Orny Adams, Michael Rapaport, and Yakov Smirnoff to name a few.

Her viral video "Sure Lock: A True Poo Story", has been viewed over 13 million times, was the most watched comedy video on YouTube. She is a regular sketch performer on Jimmy Kimmel Live (ABC), and can be seen most recently in The Thundermans (Nickelodeon), The Goldbergs (ABC), Workhaholics (Comedy Central), I Didn't Do It (Disney), Austin & Ally (Disney), Making History (FOX), Mom (CBS), and as a series regular in a new sketch comedy show Now We Know by the creators of King of the Hill and Silicon Valley.