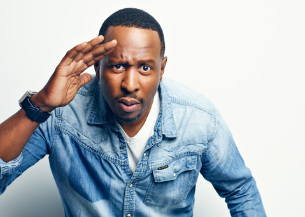 Owen Smith's Bio
You know his face from some of your favorite television commercials but OWEN SMITH is a stand up comedian. He made his late night stand up comedy debut on Conan but he was funny on several other shows before that: Russell Simmons Presents: The Ruckus (Comedy Central), Def Comedy Jam (HBO), Premium Blend (Comedy Central), Chocolate News (Comedy Central), Hip Hop Squares (MTV2), Love You Mean It (Bravo), Latino Laugh Festival: The Show (SiTV). He's made people laugh at festivals, colleges, universities, performed in 48 of the 50 states and has two Hour Comedy Specials: Owen Smith: Anonymous and Good Luck Everybody under his belt. The latter of which made history by being the first ever comedy special shot entirely on iPhones. Owen bought 10 iPhones shot the special, then the next day, returned the iPhones.

Owen is also a writer who has penned several teleplays that appeared on television. Some of his credits include: The Arsenio Hall Show, The ESPY's, The Guy's Choice Awards, Whitney (NBC), Deon Cole's Black Box, the Ice Cube sitcom Are We There Yet, and the Chris Rock hit Everybody Hates Chris. He is currently writing and producing for the LeBron James series on Starz called Survivor's Remorse.

Owen is repped by Paradigm and Barry Katz Entertainment and lives in Santa Monica, CA with his funny and beautiful wife Ralinda.

Their wedding was July 20, 2014 and they were registered at www.amazon.com.