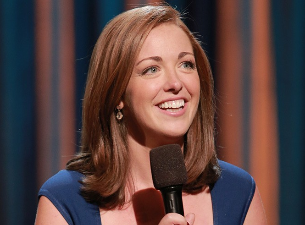 Megan Gailey's Bio
Gailey, a native of Indianapolis, is a rising star in the Chicago comedy scene. With a sorority girl chip on her shoulder and say-anything attitude she has had audiences laughing all over the city of Chicago and the entire Midwest.

Gailey can be seen in Chicago's top shows:

-Red Bar Comedy Club

-Comedians You Should

-Riot Comedy

-Zanies Rising Star Showcase

-Comedy on State (Madison WI)

-Numerous Mikey O' Comedy Productions

At Red Bar, one of the hottest spots in Chicago. Megan is 1 of 3 women to ever perform there. She also performed a 4-week run on the stages of Second City and is a graduate of the iO Training Program. Winner of numerous comedy competitions at Indiana University's Funny Bone, Ball State University, and Audience Favorite at Chicago's very own Fat Wednesdays Comedy. She is also a regular contributor on the national comedy podcasts Visitor's Locker Room and Red Bar Radio.

Give her your own round applause by becoming a fan of the overly talented, make you pee your pants, MEGAN GAILEY.