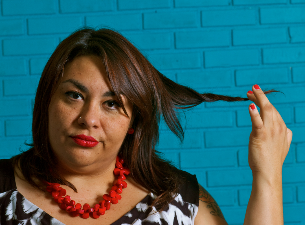 Lydia Popovich's Bio
Lydia Popovich hails from San Francisco, CA. Her anecdotal humor and vivid storytelling make her a unique voice in a sea of dick jokes. On stage, she is a force to be reckoned with bringing energy and unparalleled confidence to each performance. SF Weekly named her the #1 Artist to Watch in 2016 describing her humor as "Hilarious and brutally honest" stating "Her comedy does more than make us laugh; it also makes us think."

She's a featured performer at Rooster T Feathers, Punch Line SF, Punch Line Sacramento and Cobb's Comedy Club. Her comedy can be heard on popular comedy podcasts Put Your Hands Together (Feral Audio) and Competitive Erotic Fan Fiction (Nerdist). She tours nationally and internationally having performed as far away as Berlin and London. Along the way she has opened for certified headliners like Paul Rodriquez, Aisha Tyler, Moshe Kasher, Rob Delaney, Maria Bamford and Jimmy Pardo.

Dave Grohl of the Foo Fighters once touched her arm and said, "Hey, you're pretty funny!" The only things that bring her more joy than comedy are Dolly Parton and brunch.