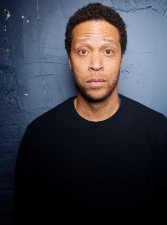 Kevin Avery's Bio
Kevin Avery is a comedian and two-time Emmy award-winning writer. His writing credits include HBO's Last Week Tonight with John Oliver, Comedy Central's The Jim Jefferies Show, VH1′s Best Week Ever, and the critically acclaimed FX original series, Totally Biased with W. Kamau Bell, on which he served as head writer.

He appears in and was co-writer of the Comedy Central digital series, White Flight, and

was co-host of the popular Earwolf podcast, Denzel Washington is the Greatest Actor of All Time, Period, praised by Buzzfeed as "smart" and "funny" and recommended by Entertainment Weekly as a "Must List(en)." Kevin also wrote and starred in the award winning short film, Thugs, The Musical! You can see Kevin later this year appearing on the new Comedy Central series The New Negroes on which he also served as head writer.