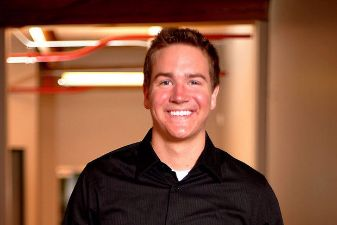 Halli Borgfjord's Bio
Halli Borgfjord grew up in Kalamazoo Michigan in a well-rounded family where he enjoyed the comfort of suburban life. Being the middle child Halli was naturally inclined to be in the spotlight and initially had childhood dreams of becoming an actor but as a young teenager Halli fell in love with the show "Friday Night Stand-Up" on Comedy Central and from that moment on knew someday he would be a comedian himself. All through grade school and into college Halli was the biggest student of stand-up. While his friends were buying the latest pop albums Halli was listening to George Carlin and going to see legends such as Jerry Seinfeld and Mitch Hedberg in concert.

Due to his relentless study and passion for comedy Halli was a natural on stage. Starting his comedy career in college Halli became an instant success with his quick wit and ability to point out the insanity of everyday life. Shortly after beginning his stand-up career Halli obtained some success by becoming a finalist in a local stand-up competition and from there he began to perform in the bigger clubs in Chicago and across the midwest.

Halli now resides in Los Angeles CA and is a crowd favorite all across the country. Halli appears regularly in Las Vegas opening for comedy legend Louie Anderson and he also appeared briefly on the 2010 Green Card Tour with Russell Peters. In Los Angeles Halli runs his own regular show "A Comedy SmorgasBorg" at the World Famous Comedy Store and is a regular on the hottest college show in the country "Comedy Juice." Halli has been featured in Life Magazine and in August 2010 Campus Activities Magazine named Halli to their "Hot Comedy" list as one of the top comedians of 2011. In September 2010 Halli released his first full-length comedy album"Have You Been Borgfjorded Lately?" The album debuted at #2 overall on the iTunes Top Comedy Charts. Halli continues to tour nationally and his comedy album is currently available on iTunes and Amazon.