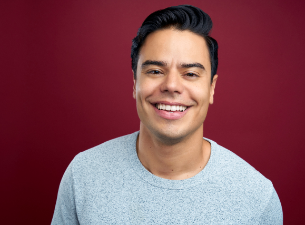 Francisco Ramos' Bio
Francisco recently shot a standup special "Entre Nos" for HBO. He was a top-ten finalist on Last Comic Standing and continues to flourish as an actor and voice-over artist in addition to touring as a stand-up comic across North America. He most recently appeared in Showtime's "Shameless," with other appearances in "Angie Tribeca" from Steve Carell, Netflix's "Lady Dynamite", and voicing the role of Marmoset in the animated film "RIO" with Anne Hathaway and Jesse Eisenberg. He has also appeared on the hilarious @midnight on Comedy Central and several times on Jimmy Kimmel Live.



Francisco is part of Lorne Michael's "Mas Mejor", where he has written, directed and performed several sketches for them. His debut album "Vayalo" has been exclusively playing on Sirius XM and has been a top 5 album on the Billboard Comedy Charts. He directed, co-wrote and starred in his debut comedy short "Zoo Animals", which has already been accepted to several festival, including Just For Laughs.



Early in his career, Francisco was selected to perform in the CBS Multicultural Diversity Showcase, where he was one of 12 selected from a pool of 5,000 applicants. Having won first place in the Lucille Ball Comedy Festival sponsored by NBC/COZI TV, American Latino produced a documentary on Francisco about his rise as a comic for Latino Out Loud (LOL).