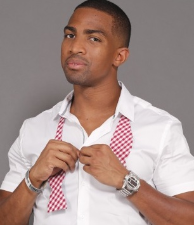 Donnivin Jordan's Bio
Laugh now, Laugh later. That is Donnivin Jordan's motto for life.

Born and raised in Hattiesburg, Mississippi, this young comedian and actor, has been making people laugh his whole life. As a young boy, he watched the smooth and energetic way in which his father would take over the room with his comedic storytelling. As Donnivin recalls, "People would rush to finish dinner, just to come into the room and listen to my dad tell jokes and stories. I took what I saw him do, and manipulated it in my own way, for my peers. That was how I learned the art of telling a joke…..and that was how I came to understand the universal language of LAUGHTER."

Though his first taste of comedy came from his youth, it wasn't until after high school that this driven young man decided that he wanted to take a different path. Bored with school, Donnivin decided to join the military. It was in those first few weeks of boot camp, that he began to realize that comedy was in his blood. Following in his father's fashion, he quickly became known for his animated storytelling and impersonations. Performing for his shipmates became a regular occurrence, and laughter became a consistent sound around his barracks. One particular day, after helping pick up the spirits of all the troops by doing what he would later realize was an impromptu stand up routine, a fellow shipmate came up to him and said "Man you should be doing this on a stage or T.V. or SOMETHING! You're just TOO funny!!!" It was then, that Donnivin knew: Comedy was where he belonged.

In 2002, while stationed in Virginia, Mr. Jordan decided to actively pursue a career in comedy. True talent being hard to ignore, it wasn't long before he secured his own room on Friday and Saturday nights at the VA House of Comedy, which he held for an entire year. In 2003, he won the Funniest Comic in VA, not a small accomplishment for a newcomer to the game. Wanting to be closer to the big time in Los Angeles, Donnivin cleverly persuaded the U.S. Navy to station him in California. Relocating to San Diego, not only meant working the comedy circuit there, but it also meant that he could take short trips to LA to begin creating his network. He quickly found his way around and began hosting Wednesday nights at Antonio's. After hosting in California for a year, Donnivin moved to Houston, TX and became SO involved in the comedy scene there, that in 2004 he won the Young Gun of the Year award. Finally deciding to take his career to the next level, a very young and energetic Donnivin moved to Los Angeles. Not one to waste any time, he began auditioning and performing immediately. After an unforgettable appearance on the popular MTV show, "Next", Mr. Jordan realized that he really had a knack for this television thing. The following year, he booked his first major television series, BET's "Hell Date". As a recurring lead, Donnivin had the chance to display his comedic ability through an array of characters.

A known face in the comedy world, Donnivin has graced the stages of The Improv (LA & Ontario), The Comedy Store (LA), The Comedy Union (LA), The Laugh Factory (LA), The Laff Stop (Houston), Uptown Comedy Club (Atl), and Dez's Joint (Houston).

Through his travels and experiences in the world of comedy, Donnivin has had the pleasure of working in the midst of seasoned pros such as Ricky Smiley, Bruce Bruce, Mo'Nique, Chris Tucker, Michael Colyar, Katt Williams, Cory Holcomb, Kevin Hart and Tony Rock. Vets to the game such as Mike Epps ("Friday" series,), DeRay Davis ("Barbershop"), G-Thang(MTV's Punk'd) and Chris Spencer, are closer colleagues who have had many positive things to say about this rising comic and his potential to win in this game. But Donnivin is not playing.

This young man is SERIOUS about comedy.

Currently working on a new television series and with 3 independent films on the horizon, according to this young comic, we can all expect to be speaking that "language of laughter" in the coming months.

Donnivin Jordan is a name to remember, and his unique humor is hard to forget. He is a natural-born comic who possesses a true talent so infectious, it's sure to keep you laughing now….

and later!!