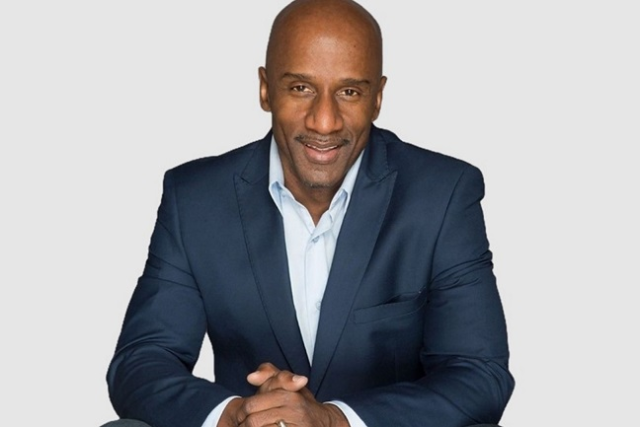 Damon Williams' Bio
With over 25 years in the industry, Damon Williams is a former Subway sandwich shop owner from Chicago, IL who began his comedy career at All Jokes Aside Comedy club. Damon's previous television appearances include BET's Comic View dating back to 1994, including his own one-hour special. He's been featured on BET LIVE, Comedy Central's Premium Blend, The Tom Joyner Sky Show on TV ONE, and HBO's P Diddy's Bad Boys of Comedy.

The Funny Man from Chicago even hosted several episodes of the legendary Showtime at the Apollo, following seasoned host & TV star Steve Harvey. In 1999 Damon performed for over 300,000 fans as the opening act for the highly successful Kings of Comedy Tour, establishing him as one of the elite comics in the nation.

Internationally Damon is a fan favorite in the Cayman Islands and has made regular appearances in Canada with stops in Vancouver, Montreal, and Edmonton. Damon has even been featured on The Real Deal Comedy Jam, which airs in the UK. Monthly comedy shows for the House of Blues came were the result of one appearance on the Jenny Jones Show. He was contracted to write, perform, and produce over 50 episodes. His material is universal and there's something for all ages. His popularity has provided him the opportunity to work with some of the biggest stars in the business such as Aretha Franklin, Pattie Labelle, Luther Vandross, Ray Charles, Harry Belafonte, Chris Rock, James Brown, Jamie Foxx, Little Richard, and even President Barack Obama – where he served as host for a campaign brunch.

You've also seen Damon recently on tours and shows such as Host of HBO's Martha's Vineyard Comedy Fest, The US Comedy Arts Festival in Aspen, the Cedric the Entertainer Revue, HBO's Def Comedy Jam, Martin Lawrence's 1st Amendment, Comics Unleashed, Black Pack Comedy Tour, Laughin' on the Outside – Cryin' on the Inside, most Funny Bone & Improv Comedy Clubs nationwide and maintains his monthly showcases in Chicago for Funny First Mondays. He's caught the acting bug with starring roles in films Not Another Black Movie, lead in Heaven on Seven, and also an appearance on the Bounce TV sitcom Grown Folks. Damon is keeping Chicago on the map as co-owner of Riddle's Comedy Club where he's providing a stage for new and veteran comedic talent. With his life motto of "Don't Stop and Don't Quit," Damon previously held the "Funny Chair" seat as co-host on the legendary nationally syndicated Tom Joyner Morning Show, and is seen consistently on Chicago's #1 Day Talk Show, Windy City Live.

Damon landed an Unscripted Comedy Stand-Up, Laugh Tonight with Damon Williams, on New Streaming Service, UrbanFlixTV, and is available now.