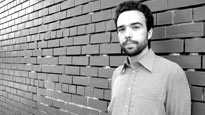 Chris Garcia's Bio
"Fearless, funny, and straight from the heart." – Robin Williams

"Chris Garcia proves you can find humor in anything." – Marc Maron

"Beautiful, exceptional, gloriously confessional work." – Joe Klocek

"Chris Garcia is the future of comedy. I say that because he's really white like me, but younger." – Carlos Alazraqui

"Garcia is not afraid to get emotional on stage" – Esquire Magazine

"Chris is someone who is totally hitting his stride as one of the next big comics." – David Owen, Co-Founder SF Sketchfest

"Hunky." – Portland Mercury News

Born and raised in Los Angeles, CA, Chris Garcia started his comedy career in the San Francisco Bay Area where he was named "A Comic To Watch" by the San Jose Mercury News, "One of the 7 Funniest People in San Francisco" by 7×7 Magazine, and a "Rising Comedic Star" by the SF Weekly.

Chris moved back to Los Angeles in the summer of 2012. Since then, he has appeared on Comedy Central's @Midnight and Adam Devine's House Party, NBC's Last Call with Carson Daly, NPR's This American Life and The WTF Podcast with Marc Maron. Most recently, Chris was a New Face at the 2016 Montreal Just For Laughs Comedy Festival, where he was bestowed the honor of "Best of the Fest."

Chris's other festival appearances include The New York Comedy Festival, SF Sketchfest, The Bridgetown Comedy Festival, The Aspen Rooftop Comedy Festival, Riot LA, Outside Lands, the Humboldt Comedy Festival, and The Akumal Comedy Festival in Mexico.

As a writer, Chris has worked as the Editor for RooftopComedy.com, has written for the 2015 CBS Diversity Sketch Showcase and has contributed to The Eric Andre Show, The Comedy Central Roast of Justin Bieber, The MTV Movie Awards, MSN, Yahoo, Bing, Nick Mom, Fast Company, Revision 3 and Life & Style Magazine. Chris has also written and recorded music that has been featured on Comedy Central Insider and MTV Tr3s. He recently completed the NHMC's Television Writer's Program for the second time, an ABC and NBC sponsored intensive scriptwriters workshop that prepares Latinos writer's for success in network television.