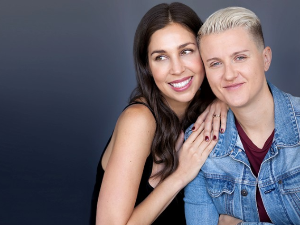 Carlie and Doni's Bio
Carlie and Doni are a straight girl/ lesbian, best friend comedy duo based in Los Angeles. They are regulars at The Improv and have a bi-monthly show there called Your Mom Says Hi!

The girls have Headlined Universities and Comedy Clubs all over the country and their music video Gangsta Waitress features cameos by both Lily Tomlin and Richard Lewis.

Their Series "Your Mom Says Hi!" can be seen on Revry & Pluto T. V. And has been featured in several film festivals including ITVFest and Out Web Fest and won a Global Accolade Film Award of Excellence.

Carlie and Doni were voted best comedians in L.A. by Los Angeles Magazine as well as Hot Comics to watch by Campus Activities Magazine. Carlie is fluent in Spanish and plays the guitar, Doni is fluent in the language of love and will seduce your mom.