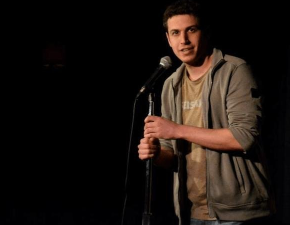 Ari Mannis' Bio
Ari grew up in San Diego, CA and is currently residing in Los Angeles where he performs stand up comedy regularly; some notable venues include The Comedy Store, The Ice House, The Improv, and many more.

In 2010 Ari skateboarded from Oregon to New York to raise money towards at-risk youth for the organization SkateAcrossUSA. In 2012 Ari skated from Santa Cruz, CA to San Diego, CA almost 600 miles stopping and performing stand up along the way.

His comedy has been featured on MTV Greatest Party Stories Ever, Gabriel Iglesias's Stand-Up Revolution on Serious XM, Nerdist, FunnyOrDie, Cracked, Medium, College Humor, & TBS. Recently he started a monthly comedy show in the living room of his apartment which has been featured on Forbes, AirBnB, Yelp, Comedy Vortex, and LA Weekly.

Ari started his own Comedy News & Podcast Network StandUpTalk in which his Podcast Unlicensed Therapy is located, it has been featured on SoundCloud and iTunes with over 500,000 subscribers; it is recorded monthly from the Podcast studio located in the basement of the World Famous Comedy Store. Ari started the Podcast studio and has produced podcasts such as Industry Standard w/ Barry Katz, The Pauly Shore Podcast, The Comedy Store Podcast, & Allegedly with Theo Von.

Ari can be seen touring all over either by himself or opening for comedians such as Theo Von, Amir K, Fahim Anwar, and Pauly Shore. He has performed in many Comedy Festivals including The Laughing Skull Comedy Festival, Beast Village, Golden Spike, Burbank, LA Scripted Comedy Festival, Big Pine, Ventura Harbo & The Laugh Your Asheville Off Comedy Festival.