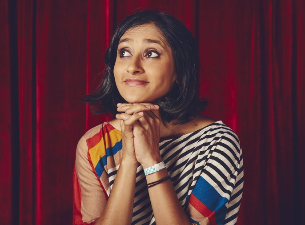 Aparna Nancherla's Bio
Aparna Nancherla is a comedic light entity who emits both writing and performance. She recently wrote for and sometimes appeared on the late, great Totally Biased with W. Kamau Bell, on FX-then-FXX.

Other credits include appearances on @midnight, Conan, Comedy Central's Adam Devine's House Party, VH1's "I Love the 2000s", and TruTV's "Friends of the People"; numerous lists including TimeOut NY's "10 Funniest Women in New York", Flavorpill's "11 Essential Young Comedians in New York", and Time Magazine's 140 Top Tweeters of 2014; festivals such as the Melbourne International Comedy Festival, and Just for Laughs Comedy Fest in Montreal; podcasts such as WTF with Marc Maron and the Nerdist Podcast with Chris Hardwick; and being featured on NPR, Laughspin, and in Cosmopolitan, Reader's Digest, The Huffington Post, and The Washington Post Magazine.