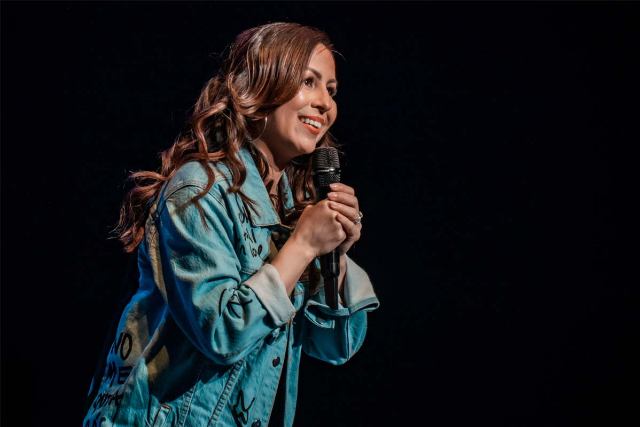 Anjelah Johnson's Bio
Anjelah Johnson-Reyes is a comedian and actress who Maxim Magazine hailed as "uproariously funny" and Time Out Chicago described her show as "filled with almost non-stop laughter." She was born and raised in San Jose, California and is of Mexican and Native American descent. Anjelah is a prolific stand-up, having released specials on Netflix, Hulu, Comedy Central, and Epix.



Anjelah has guest starred on shows such as Superstore, Curb your Enthusiasm, Ugly Betty, and The Shield and has appeared in such films as Enough Said, Our Family Wedding, and Alvin and the Chipmunks: The Squeakuel.



After a stint as a professional cheerleader for the Oakland Raiders, Anjelah became an internet sensation with her viral video, "Nail Salon" which led to many stand up, television and film opportunities. That same year she joined the cast of, "MADtv" as a series regular, which spawned another internet sensation, "Bon Qui Qui." This original character, a disgruntled fast-food employee with no filter, has been enjoyed, viewed and replicated by over 80 million people worldwide. Anjelah is currently one of the most successful stand-up comedians touring today, selling out theaters and clubs across the country.