Monty Franklin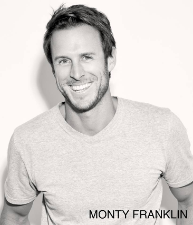 Bio
Monty Franklinis an Australian born stand up comedian now based in LA.
He tours all over the world headlining some of the biggest comedy clubs and also opens forRob Schneider.He is currently appearing in Rob's new TV Show 'Real Rob' onNETFLIX, season 1&2.
He has had roles on 'New Girl' -FOX, 'Becoming Bond' - Huluand is the creator and star of 'The Manny' -TV Pilot.
Monty's numerous television stand-up performances includeAXS TV's Live At Gotham, Channel 10sThe Circle, Foxtel'sStand Up Australia, and as part of The Comedy Channel's special –The Best Of Stand UpandComedy Gold.
Performing sold out shows at theMelbourne International Comedy Festivalin 2005, 2006, 2007 and 2010, he received wide recognition and praise for his showsThe Full MontyandMonty McFly.
Monty performed at the 2009Carols By Candlelightto a crowd of 15,000 at the Sidney Myer Music Bowl, and MC'd for 18,000 music goers at the 2010 and 2011Pyramid Rock Festivals.
Monty has produced, written and starred in two TV Pilots of sketch-comedy showNo Monkeys on BikesforChannel 7, co-hosted a weekly radio show onFox FMand produced a number of short films featured in festivals around the world.
Monty was the host of the pilot Tv Show 'Australia UpLate' and filmed a forth pilot with Channel 7 for a comedy travel show.
Monty is now based in Los Angeles where he performs all over the country and world with legendary Saturday Night Live favorite Rob Schneider. Monty also headlines some of the most sort after comedy clubs in the world includingThe Improv Comedy Clubs,The Laugh Factoryand Monty's name was recently added to the world famousComedy Storein Hollywood, up there with all the greats likeEddie Murphy, Robin WilliamsandSteve Martin, he is the first Australian on the wall, a great honor.