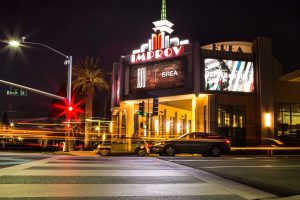 Brea Improv/Copper Blues
180 South Brea Blvd, Brea, CA 92821 (
Map
)
The Brea Improv is an ideal location for corporate events, wedding receptions, business meetings, fundraisers and more. Situated in the heart of sunny Orange County California, a short drive from Disneyland and a variety of shopping options, the venue has just finished a renovation that added a Copper Blues music venue. The expanded location now seats up to 500 patrons and offers increased food and cocktail choices. With the latest in technical capabilities, the venue is able to facilitate a wide variety of presentations, as well as support both live music and DJs. Complimentary parking is located conveniently across the street.
Venue Capacities:
– Main Showroom: 570 Capacity
– Copper Blues Main Room: 340 Capacity
– Copper Blues Back Bar: 50 Capacity
Contact
Fill out the form on this page or message events.brea@improv.com
More Info
Plan your event
Thank you for your submission. A representative will call you as soon as possible. Your business is appreciated very much.