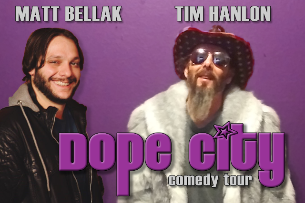 Tim Hanlon & Matt Bellak's Dope City Comedy Tour
You missed it! This show has passed.
Show Info
Matt Bellak and Tim Hanlon are two nationally touring headliners featured on Amazon, Hulu, and Comedy Time TV. They have been selling out comedy clubs all over the country as two thirds of the Fresh Drunk Stoned comedy tour. They have again teamed up to form the Dope City Comedy Tour. A dual headliner show featuring the country's Dopest comics. Coming your way, to turn your city into DOPE CITY.