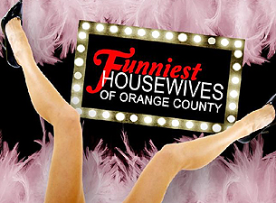 The Funniest Housewives of Orange County
You missed it! This show has passed.
Show Info
Their extraordinary ability to entertain and engage all types of audiences make them a must see stand-up comedy show! Their distinctly different personas stand strong on their own but together they are a force of nature. Get ready to get down and have fun with these fabulously funny femme fatales who DO IT STANDING UP! This show brings together the best and the brightest! Their resumes read like a "Who's Who" of comedy! They've appeared on Oprah, The Tonight Show, David Letterman, The View, Jimmy Kimmel, Jimmy Fallon, Comedy Central, HBO, Showtime... And that's just the short list! Line up: Hosting is Julie Kidd "Dysfunctional Housewife" Winner of ABC's The View Hilarious Housewives, Kira Soltanovich from the Tonight Show the new FOX Hit TV Show "Punchlines" and also has her own Special "You Did This To Me!" The Multi Personalities Housewife Angela Hoover from America's Got Talent, Dana Carvey's First Impressions, and Netflix. ALSO MEET THE WINNER of our 1st Annual Funniest Housewives Comedy Competition - the Confused Housewife Jenna Perry!