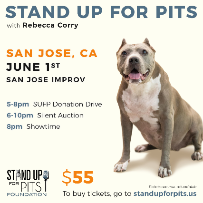 Stand Up For Pits
You missed it! This show has passed.
Show Info
The Stand Up For Pits Foundation is a 501c3 non-profit dedicated to saving lives and ending the abuse and discrimination of Pit Bull "type" dogs (Pibbles) through live events, funds, education and advocacy. We don't limit the way we advocate or save lives. We believe in new ways, new thinking and new change, and are committed to empowering others to do the same until abuse and discrimination against our beautiful Pit Bull type dogs ends.

The Stand Up For Pits Foundation supports Pit Bull "type" dog rescues around the country by raising funds, providing publicity opportunities and Pibble adoptions at the Stand Up For Pits live events (to read just some of the Foundation success stories go to www.standupforpits.us/sufp-success-stories).

The Foundation donates to and supports educational programs and front line rescue efforts. We advocate, educate and save lives and we will continue to focus our efforts to end dog fighting, abuse and discrimination. Most all of what we do will be made public, but some efforts will not. Certain aspects of fighting and abuse can be damaged if made public and we will always do what is best for the cause.