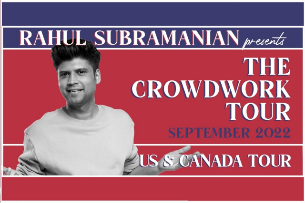 Rahul Subramanian - Crowdwork Show
You missed it! This show has passed.
Rahul Subramanian's Bio
Rahul Subramanian is one of India's most versatile comics. He has dipped his toe in everything – stand-up comedy, sketch comedy, improv comedy, and crowd work. He has two specials on Amazon Prime Video – his solo stand up special 'Kal Main Udega' and an Improv Special called 'Improv All-Stars'. Rahul and Kumar Varun, together known as 'Random Chikibum', started off their comedy career by winning the inaugural 'YouTube Comedy Hunt'. Since then they have acted in a number of sketches for AIB, including the viral hit 'Honest Placements'. In 2019, Rahul debuted his new stand up special 'Is This Even Comedy?' at the Melbourne International Comedy Festival. He recently finished his Crowd Work Tour in India, Middle East and Europe with sold out shows everywhere and sold 30,000+ tickets.
Learn More