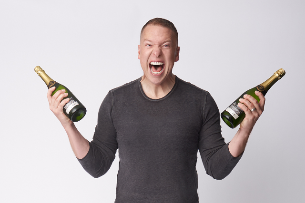 Gary Owen: LIVE COMEDY SPECIAL TAPING
You missed it! This show has passed.
Gary Owen's Bio
Gary Owen has been entertaining American audiences for more than a decade with his side-splitting comedy. Having performed to sold-out audiences in all the major comedy clubs and theatres across the country, Owen is one of America's most beloved comedians and was proclaimed by Ebony magazine as Black America's "Favorite White Comedian." Audiences can now see Owen in his fourth Showtime comedy special, "GARY OWEN: DOINWHATIDO" which premiered on Saturday, September 7th. This is the follow-up to his three previous Showtime specials titled "I Got My Associates," which came out in Fall 2018, and "I Agree with Myself" and "True Story," both of which aired on Showtime in 2015. Owen has had massive success as a comic actor on the big screen. Up next, he will appear in Universal 1440 Entertainment's SUDDEN DEATH. In 2016, he starred opposite Mike Epps and Mike Tyson in the comedy MEET THE BLACKS and in 2014, he starred in the Universal comedy RIDE ALONG with Ice Cube and Kevin Hart. He is also one of the stars of the popular Screen Gems' franchise THINK LIKE A MAN (2012), having appeared in the first installment and its successful follow up THINK LIKE A MAN TOO (2014). In additional to their commercial successes, both opening #1 at the box office, the films were warmly received by critics and fans alike. Other film credits include LITTLE MAN (2016) opposite The Wayans Brothers and DADDY DAY CARE (2003) opposite Eddie Murphy. He is also widely known for his stealing role as "Bearcat" in the MGM film COLLEGE (2008). In 2016, Owen starred in the BET docuseries "The Gary Owen Show," which chronicled his dynamic and interracial family life with his wife and children in small-town Ohio. The series marked the first time a Caucasian actor had starred in his own series on the network. On the small screen, Owen co-hosted TruTV's sketch series "Upload with Shaquille O'Neal" (2013). After meeting Tyler Perry on The Tom Joyner Morning Show, Owen was cast as the recurring role of Zach the barber in the 5th season of the TBS comedy series "Tyler Perry's House of Payne." In 2014, he served as the host of the hugely popular comedy special "Shaquille O'Neal Presents: All Star Comedy Jam - Live from Orlando". Other standout comedy performances include "Mike Epps Presents: Live from Club Nokia" as well as "Breakin' out the Park" and "Urban Legend," the latter two which he also produced. He also starred in "Martin Lawrence Presents: 1st Amendment," which aired on Starz in 2005. In addition to his breadth of comedic work in films, television, and standup, Owen works closely with the nonprofit Facing Addiction, an organization dedicated to finding solutions to the addiction crisis in America. Having lost his own brother to heroin addiction, Owen regularly speaks and performs to raise awareness and support for the organization's mission. Owen grew up in Cincinnati, Ohio and has always had a passion for comedy. He enrolled in the US navy following high school, where he was chosen for the prestigious Presidential Honor Guard. After leaving his ceremonial position, Owen became a military police officer at the Naval Installations on Coronado Island in San Diego. During this time, he returned to his true calling: standup comedy. After only a year of doing stand-up, he was named "Funniest Serviceman in America." Two appearances on the multicultural comedy showcase, "BET's ComicView," won him his own one-hour "grandstand" show. At the end of the season he was selected from the year's four "grandstanders" to be the host.
Learn More