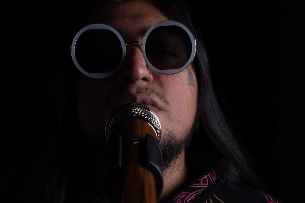 Carlos Ballarta: En Español
You missed it! This show has passed.
Carlos Ballarta's Bio
Carlos Ballarta is a stand-up comedian and actor born in Mexico City in 1990. He was raised in Chicoloapan, a borough in the Metropolitan area, and studied acting. His artistic career started as a voice actor, and the first time he went on an Open mic was in 2012. He then started to wear glasses due to his fear of looking audiences in the eye, and this has become his signature look. In 2014 he became a fan favorite with his debut Comedy Central Latam. Since then, he has taped three Netflix specials, and he has been touring around Mexico, Latin America, USA, Canada and Europe. He has also appeared on many films and TV shows, as an actor, comedian and voice actor, and this has positioned Carlos Ballarta as one of the most recognizable faces in the growing Spanish speaking Stand Up scene. As father of two, Carlos is an advocate of diversity in Mexican entertainment industry. His three stand up Netflix specials, El Amor es de Putos, Furia Ñera and Falso Profeta are a testimony of his beliefs. He likes to describe himself as not the best, but an intuitive artist, which is a nicer way to say he's one lucky bastard.
Learn More