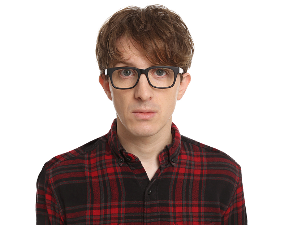 James Veitch's Bio
Comedian and writer James Veitch has become renowned for his unashamedly nerdy and hilarious stand up material.

A former Apple Store Genius, Veitch's comedy is high-tech: picking apart, parodying (and pranking) the fast-advancing and perplexing technology we live with. His live shows have explored technology, retro-gaming, and finding love through troubleshooting theory.

James has sold out shows throughout the UK, US, Australia, Scandinavia, Canada and Europe, and has performed at engagements throughout the world, most recently speaking for Google, Marriott Hotels, Hewlett Packard, Wix and NASA.

He has performed at three Ted Talk events - one of which has become the most viewed video of all time on their YouTube channel, and he currently resides in the top 25 of the most popular talks of all time, on TED.com. He has also written and performed two viral hit seasons of his show 'Scamalot' with Mashable.

His best selling book, Dot Con, based upon his first live show, is available now, and he has recently performed his debut appearance on TBS' Conan .