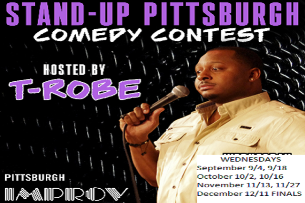 "Stand up Pittsburgh" Comedy Competition Finals
You missed it! This show has passed.
Show Info
Here are the rules and guidelines on the competition for this season!

The Preliminaries will be judged by, guess who, the crowd and YOUR SUPPORTERS!! So bring them to help you advance!! The Semi Finals will be judged by both the crowd AND a host of Special guest Judges. The Finals get tricky. The crowds votes will count as half votes while the Judges votes will tip the scales. So you'll have to bring your best to get their votes.

The Preliminaries will be given 5 minutes and the top 5 will advance to the Semis.

The Semi-Finalists will be given 6 minutes and the top 5 will advance to the Finals.

The 10 Finalists will compete for the top 4 spots! 2 from each show move to the Finals


1st Place is $250.00 AND an Emcee or Feature spot for on of our mainstream Headliners! Restrictions apply as we choose who you'd best fit with and best availability.

2nd Place is an Emcee/ Feature spot. (Subject to Avails)

3Rd Place winner get to host a month of Open Mic.

Dates:
November 7th and 14th-Prelim
November 15th and 28th- Prelim
December 5th and 12th -Semi
December 19th- Finals

Heres how to enter:
E-mail Comedian T-Robe @ t-robecomedy@hotmail.comwith your name, e-mail address and phone number. Each Comedian is required to bring a minimum of 5 guests to be eligible to compete. Failure to meet this guideline will result in a disqualification and you will be unable to perform.