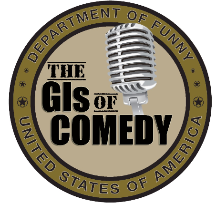 The GIs Of Comedy
You missed it! This show has passed.
Show Info
The GIs of Comedy is a comedic troupe of troops, who have taken their love of their country and brought it to the comedy stage. Quite simply, as the motto says, they're Standup Comics. All Veterans. Still Serving Their Country. One Joke At A Time. Thom Tran, Jose Sarduy, and Tom Irwin are the Original GIs of Comedy. Since the team was created, nearly a dozen new members have joined the team from all different branches including the US Army, US Air Force, US Navy & US Marine Corps. All professional comedians trying to bring laughter to their brothers and sisters still in uniform.

Their mission and their goal is to help heal their fellow soldiers with their comedy, and to bring laughter to all those who have supported the people that wear the uniform of the United States Armed Forces. The team has performed in nearly two dozen countries, over 30 continental states, and to THOUSANDS of fans.

The GIs of Comedy Tour is the brain child of comedian, writer, producer, and former US Army Staff Sergeant Thom Tran. Having served in Iraq during Operations Enduring Freedom and Iraqi Freedom, Tran was medically retired in 2005 after he was wounded in combat in Iraq. After returning to civilian life, comedy became the only real therapy for Tran, who continues to struggle with Post-Combat Trauma, as many veterans do.