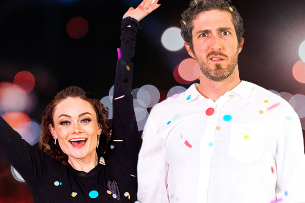 Wife & Death: The Glaucomfleckens Live
You missed it! This show has passed.
Show Info
By the tender age of 35, Will had conquered a cancer diagnosis during medical school, another one during residency, and then survived a sudden cardiac arrest. Kristin took on the role of caregiver and "co-survivor," bravely navigating the tumultuous waters of medical adversity by his side. In a fateful moment that will leave you breathless, Kristin's unwavering love and quick thinking saved Will's life in 2020 when she discovered him dying in his sleep and performed an epic ten-minute CPR rescue.

Kristin, fueled by her own experiences, transformed into a beacon of hope for survivors and co-survivors alike. Her tireless advocacy efforts earned her a treasure trove of accolades, including the revered EMS Cardiac Arrest Save Challenge Coin, the Citizen CPR Foundation's 40 Under 40 award, and the American Heart Association's Resuscitation Champion award.

Meanwhile, Will harnessed the power of comedy to cope with the twists and turns of his health journey, birthing the iconic alter ego, "Dr. Glaucomflecken." What started as a platform for sharing painfully specific ophthalmology jokes blossomed into a humorous critique of the baffling intricacies of the U.S. healthcare system and the personal conundrums faced by medical professionals. When the pandemic hit, his jokes and videos were a welcome reprieve from the horrors of working in health care. His comedy repertoire evolved into short skits featuring a wide range of characters working at a fictional hospital and incorporates biting satire of the US healthcare system, academic publishing, and the interpersonal conflicts that are pervasive in the medical system. His comedy shorts now entertain an audience of over 4 million people online, he has collaborated with the US Surgeon General, and he gave the Yale Medical School commencement address in 2022.

In their present-day adventures, Will and Kristin globe-trot as keynote speakers, bringing their unique brand of wisdom and wit to audiences worldwide. They also co-host the medical comedy podcast, "Knock Knock, Hi! with the Glaucomfleckens." Fearless in their quest, they tackle the untouchable and the taboo with a generous dose of laughter, using their social media prowess and multimedia wizardry to sprinkle humor and humanity throughout the realm of healthcare. Don't miss this chance to witness their remarkable journey come to life in a show that's part tragedy, part comedy, and all heart.