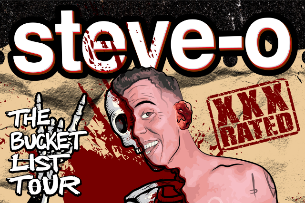 Steve-O: The Bucket List Tour
You missed it! This show has passed.
Steve-O's Bio
Steve-O (a.k.a. Stephen Glover) was willing to do whatever it took to become famous, even if it meant stapling his ball sack to his leg. After failing miserably at the University of Miami, Steve-O was a homeless couch-surfer for three years before he attended Ringling Brothers and Barnum & Bailey Clown College, to help further his goal of becoming a famous stuntman. After graduating Clown College, determined to make it in Hollywood, he began to pitch his home videos to producers. Eventually, Steve-O's videos made it into the hands of Jeff Tremaine (Jackass Creator/Director/Producer), who was working with Johnny Knoxville to create a stunt-based reality show. The rest is history. MTV aired the first season of JACKASS in 2000. Since then, Steve-O has had continued success, as a New York Times best-selling author with the release of his memoir, 'Professional Idiot', and he has established himself as a force in the world of stand-up comedy. He's even landed a handful of acting roles in film and TV. Thus far (and still counting), his career as a performer has brought him to a total of 38 countries, and his first hour-long comedy special, GUILTY AS CHARGED, performed exceptionally well on Showtime. Now in his forties, and wanting to out-do all of his previous work, Steve-O decided to address the "unfinished business" on his bucket list. He's been filming the most elusive and outlandish stunts he ever dreamt up (including Cauliflower Ear, the General Anesthesia Olympics, Vasectomy Blue Balls, Sky-Jacking... to name a few), and is now screening the all-new, unreleased footage exclusively on his BUCKET LIST TOUR, which began in 2018. This new, live show is a multi-media comedy event which explores just how high the bar has gotten for Steve-O's stunts, and the stress they have caused for his loving fiancee, Lux Wright. Across his social media platforms, Steve-O has amassed well over 20 million followers and counting, providing an intimate window into his colorful life, and sharing his love for animals (including the four dogs and two cats he and Lux have rescued). Steve-O and Lux have plans to start their own animal sanctuary. Most importantly, however, Steve-O has been clean and sober since March of 2008 and, between the various legs of his Bucket List Tour, when he isn't terrorizing Lux with his unending pursuit of the ultimate stunt, they live a surprisingly healthy lifestyle in the Los Angeles area.
Learn More