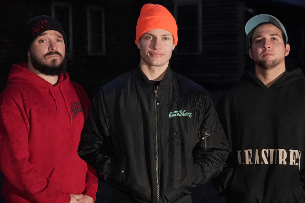 Haunted Homies
You missed it! This show has passed.
Haunted Homies 's Bio
After completing a 30 city Haunted Homies international tour in 2022, Elton Castee & Corey Scherer are now officially joining forces with the hilarious Matt Rife, but this time, in comedy clubs where nothing is off limits. Expanding beyond paranormal stories, the 2023 tour will include stories from the audience of anything that "haunts them". Whether it's atrocious bad break ups, getting yourself fired, pranks that went too far, horrifying first dates, your deepest darkest secrets or embarrassing sex stories - anything is fair game during this filmed show. Matt, Corey & Elton have collaborated on Youtube since 2018 with over 50 episodes & counting on TFIL & OVERNIGHT, now surpassing 100 Million Views. Ghost hunting in the world's most haunted locations, road tripping in New Zealand while conquering some of the most dangerous activities or pulling off insanely elaborate pranks, this trio is always creating content that is friendship & comedy driven.
Learn More