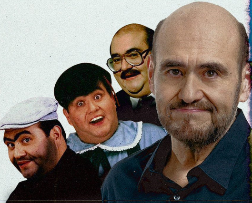 Edgar Vivar con Botija, Ñoño, y El Señor Barriga
You missed it! This show has passed.
Edgar Vivar's Bio
Edgar Vivar is a comedic legend from the famous show El Chavo Del Ocho. He is known for his iconic characters El Señor Barriga, Ñoño, and Botija. El Chavo Del Ocho is one of the most famous shows ever made in Spanish. He has since gone on to appear in various movies, television shows, and more! He currently does voice work for Disney/Pixar and Dreamworks, and continues to appear in films worldwide. Edgar was featured in Up, Ratatouille, Despicable Me 2, and the new Minions movie coming up. Edgar Vivar is one of the pioneers of comedy in Latin America, and he continues to shine in every performance he gives!
Learn More