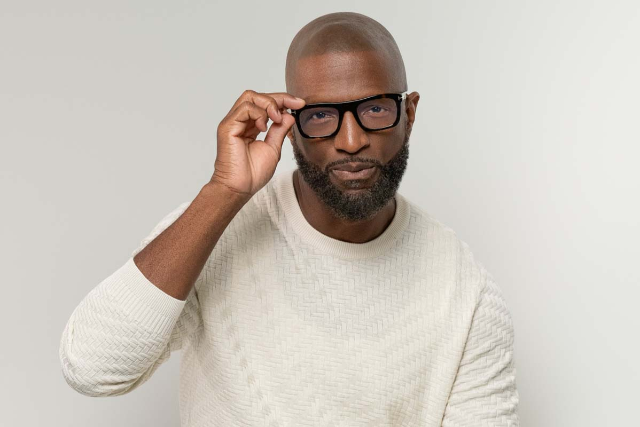 Rickey Smiley's Bio
Funnyman Rickey Smiley is known for making millions laugh. As a much loved comedian television host and top rated nationally syndicated radio personality Smiley has earned a reputation for delivering audience pleasing performances onstage or off. With the distinct ability to take everyday

observations and skillfully create comedic gold Smiley is a standout in the entertainment world.

Rickey Smiley is one of the few "clean" comics that is amongst the upper echelon of contemporary great comedians. The multi-talented comedian is however much much more. His audiences are treated to such original characters as "Bernice Jenkins" (AKA Granny Swims Ms. Johnson or Mrs. Francis) "Lil' Daryl " "Rusty Dale" and "Beauford." Bernice Jenkins has a Grandson named Rufus who's a stereotype modern day "Gangsta". In addition his show often includes a band which he accompanies playing several instruments and singing.

In 2007 Rickey Smiley became the host of the "Rickey Smiley Morning Show" one of the funniest and most compelling morning shows in the country. Smiley has taken the world by storm with his unique blend of comedy and irreverent commentary. Every morning Smiley brings to life his many

beloved characters and bits such as his famous prank phone calls "Paternity Test Tuesday" "Wake Up Wednesday" (political talk) "Gary's Tea" "News You Can't Use" or "The Joke of the Day". The "Rickey Smiley Morning Show" is a blend of laughter serious discussion of social issues political awareness and community outreach.

Smiley is the only comedian who has had the honor of hosting BET's "Comic View" for two seasons. He has made numerous television and movie appearances over the years and has produced six comedy cd's (see credits below). He also has released several humorous songs based on his bits such as "Roll Tide" featuring his redneck character Beauford and "We Miss Robert" based on a routine in which a friend of a deceased drug dealer performs a rap song at the funeral.

Rickey Smiley will release his latest cd "Prank Calls: Volume VI" soon and will be featured in theupcoming sequel to "Stomp The Yard 2: Homecoming" this fall. A proud member of Omega Psi Phi Fraternity Incorporated Smiley spends most of his free time in his hometown of Birmingham Alabama with his children.