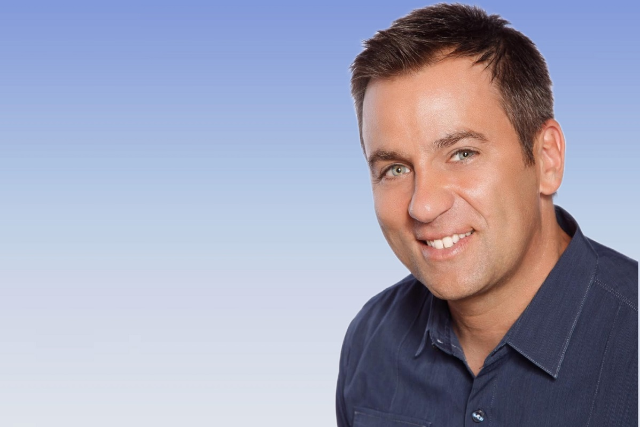 John Heffron's Bio
Energetic and accessible, acclaimed standup John Heffron shares an array of relatable experiences from childhood through life as a married father. He's learned a thing or two about relationships with family, friends, and even himself along his journeys, gaining an astute, uniquely honest perspective widely praised among his comedy peers. Audiences of all ages relate to his enthusiastic, hard-won wisdom, recognizing how often the path to maturity is marked by universal triumphs and failures. Rather than mock differences, the Detroit native aims to engage, connect, and enlighten.

Long before emerging victorious in the second season of NBC's hit reality competition Last Comic Standing, Heffron first took the stage at the University of Michigan campus's Main Street Comedy Showcase. He soon found himself skipping night classes to pursue his passion and branching into FM radio, serving as Danny Bonaduce's wingman on Detroit's Number One morning show, Danny Bonaduce and the Q Crew.



Along with appearances on The Tonight Show, The Late Late Show, HBO, FX, VH1, A&E, and CMT, Heffron has taped two Comedy Central specials, has An Hour Special "Middle Class Funny" on Netflix and recently shot his newest special in Washington DC.



In the podcasting realm, Heffron has guested on WTF with Marc Maron, The Joe Rogan Experience, and Ari Shaffir's Skeptic Tank. He is currently hosting his own podcast Heffron and Reep. Much like his self-effacing live material, Heffron's podcast invites guests and listeners alike to explore the ever-fluctuating position they find themselves in both physically and mentally.



In addition to headlining clubs and appearing at festivals around the world and due in large part to his corporate clean brand and hilarious content, Heffron remains in high demand as a performer at events for numerous Fortune 50 companies including Mercedes, Frito Lay, Sonic, Johnson & Johnson, Ernst and Young and The FBI.



His five albums, Kid With A Cape, Good Kid Bad Adult, The Better Half, The Laughs You Deserve From The

70s, 80s, 90s & Today and Episodes along with Middle Class Funny on DVD, his best-selling advice book I

Come To You From The Future: Everything You'll Need to Know Before You Know It, along with his kids book

series My Grandma Makes...are available on iTunes and Amazon.