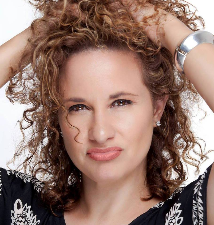 Maija DiGiorgio's Bio
Maija has exploded onto the forefront of the comedy scene, blazing past her contemporaries, to be recognized as one of the most spectacular comediennes to come along in the past decade.

Maija, being multiracial, has the opportunity to present her truly unique point of view to educated and unify audiences of all background thru laughter everywhere. Maija has performed at legendary venues from The Beacon Theater to the Apollo to hundreds of top comedy clubs, festivals, and military bases, throughout the United States to Japan and around the world. Time Out New York referred to her as "the Excellent Maija" and one of "the freshest, funniest, unique voices to grace the microphone." The New York Daily News wrote, "Don't miss Maija. Catch her before TV audiences do."

Maija's made her national television debut turning a booing audience to a standing ovation on the"Showtime at the Apollo". Her TV credits included HBO's "Sex & The City", "Def Comedy Jam", Fox's "Laughs,",

"Uncontrolled Comedy Hour," and More. She made her mark in radio when she co-hosted "The Hot 97 Morning Show with Ed and Maija" in New York City. During her tenure, at the station, their show was the number one radio station in the country.

Maija has performed with a myriad of industry standouts, including Dave Chappelle, Kevin Hart, Dane Cook, Wanda Sykes, Jim Norton, Bill Burr, Jeff Ross, Louis CK, Mike Epps, and Tracy Morgan.

She directed the films "Bitter Jester," featuring interviews with George Carlin, Richard Pryor, Kevin James, Phyllis Diller, Whoopi Goldberg and others. The New York Times and Varietyboth gave glowing reviews of the film.

A Sanford Meisner trained actress under William Alderson, Maija performed a one woman tour de force, "RATS!" from New York City to California. Her performance featured six modernized Shakespearean characters receiving rave reviews.

Maija is one of the most talented performers to hit the National scene in years. Her multifaceted approach to all levels of show business, coupled with her natural abilities for original characterizations, will definitely allow her to become a performer of meteoric proportions.